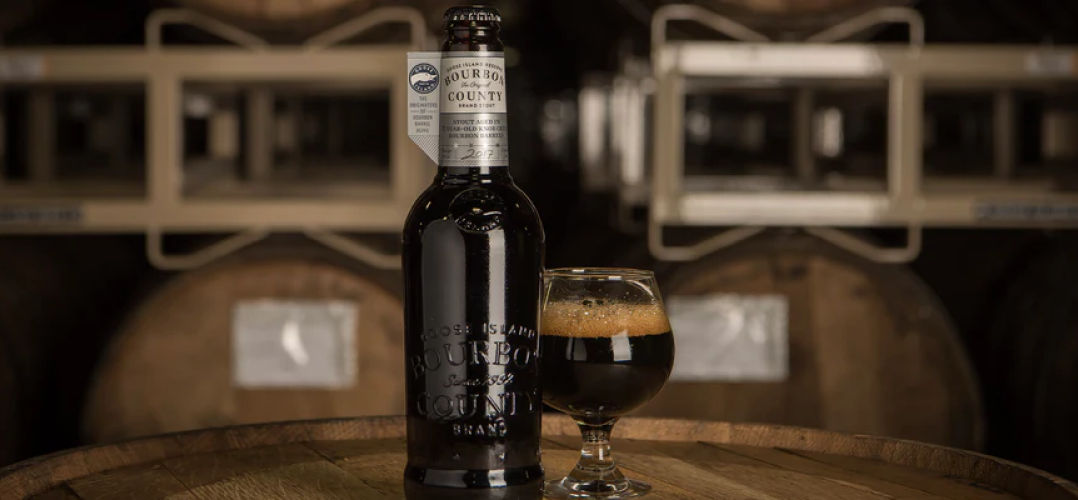 Tasty takes time. Barrel-aged beers, like Goose Island Bourbon County Stout, are well worth the wait.
Heaven. No other word could describe the combination of coconut, vanilla, sweet chocolate, dark fruit, molasses, smoke, leather, and caramel flavors in my first sip of a 2009 Goose Island Bourbon County Brand Stout. That beer single-handedly sent me on a personal quest to try as many barrel-aged stouts as I could find. But first, let me rewind to the beginning.
Hi, I'm Mike, by the way. Goose Island Bourbon County Stout brand manager over in Chicago. I oversee all our barrel-ageing beer, so you could call me a bit of an expert. Of course, it wasn't always this way. But from the very first time I tried Goose stout, I knew I needed to find out more.
MY INTRODUCTION TO STOUT
Back in 2009, I remember trying my first barrel-aged stout. The first sip blew my mind. How could this be a beer? It had so many layered flavours and a thing going on I can't begin to describe. I knew this style of dark beer was something special.
Not long after, I went to browse my local drinks store and asked one of the sales guys which stout I should pick up. Without hesitating, he pointed to a 22-ounce bottle of Goose Island's 2009 Bourbon County Brand Stout.
'These won't last long,' he said. 'You really need to try this beer.'
A beer with a $15 price tag? I wasn't sold. But after watching a few people grab a bottle and run straight to checkout like they'd won the lottery, I picked up a bottle and headed home.
I popped that Bourbon County right away and poured pretty much the whole thing into a pint glass. (I know, I know; I was a rookie beer drinker.) It was the start of an evening that'll always be etched into my beer memory. The aromas filled my nose. The flavours coated my mouth. Every sensation lingered for minutes afterward. This was a beer with wine-like layers of complexity.
The best way to get to know these beers is to grab a glass (please go with a snifter, not a pint glass) and try as many barrel-aged stouts as you can get your hands on. Yes, these beers will taste different over time. Use that as an excuse to buy two bottles of each, one for now and one for later.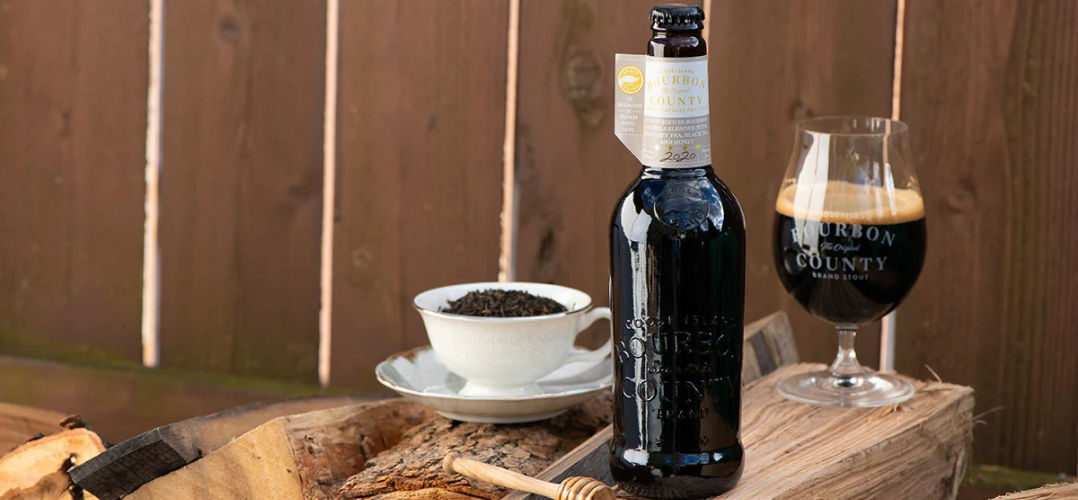 IT'S NOT UNLIKE WHISKY
Talking of complexity, my barrel-aged stout journey has meant I'm now an avid whiskey fan too. There's an art to producing both these drinks. For whiskey distillers, a lifetime of dedicated work is measured by their first complete batch of whiskey—a product that won't reach its final maturity until well into the middle of their careers (whiskey traditionally ages for more than 20 years). A master distiller samples the previous generations' whiskey, as well as their own batch as it ages from year to year, and passes that distilling knowledge down to the next generation of distillers.
In the brewing industry, the time the beer spends in the barrel is measured in months, not years (typically 10 to 24 months for a barrel-aged stout). But the drive and collaboration among brewers to create something special with barrel-aged stouts is similar to that of master whiskey distillers.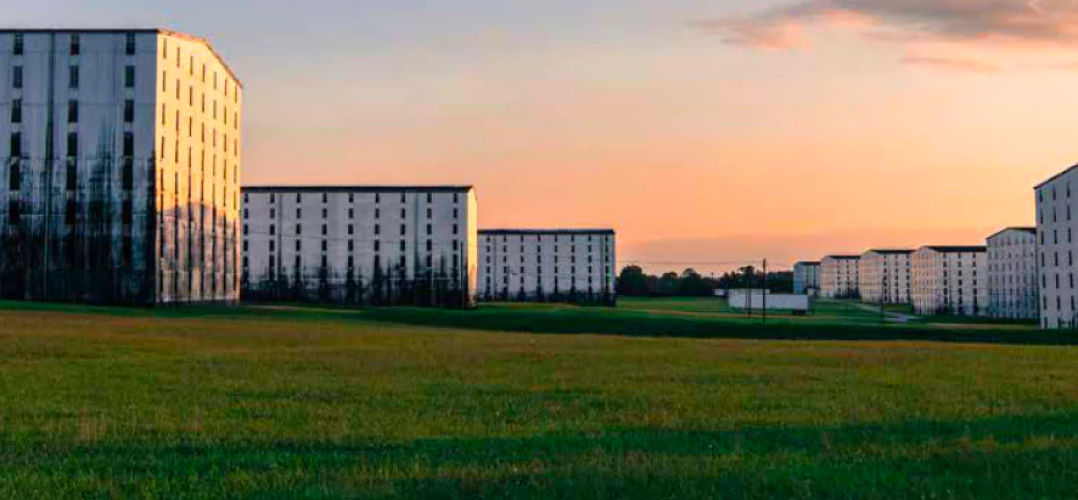 OUR GOOSE ISLAND STOUT WAS A BIT OF A COINCIDENCE
Compared with distillers, brewers are still infants in the barrel-ageing business. We're just creeping up on our 25th year of making Bourbon County Brand Stout here at Goose Island. Back in the 1990s, barrel-aged stout beers weren't even a category at the Great American Beer Festival. Former brewmaster Greg Hall had to submit his first barrel-aged stout in the Imperial Stout category, and the dark beer was declared inadmissible. If only those judges had known what was ahead.
Since then, more and more breweries have produced great barrel-aged stouts and beers, and the variants (from ingredients to the type of barrel used for ageing) keep coming. It's an awesome time to be a fan in the industry.
In the early 1990s, Greg Hall, Goose Island's former brewmaster, wanted to make something unique to commemorate the brewery's thousandth batch of beer. There was only one problem: he had no idea what to brew.
'We were asked to participate in a beer, bourbon, and cigar dinner in South Bend, Indiana, so I went,' recalls Greg. 'I got to sit right next to Booker Noe…now, that doesn't happen every day. Booker had been the Master Distiller at Jim Beam for a long, long time. We talked all night about beer and bourbon. By the end of the night, I had managed to get six bourbon barrels from him.'
These barrels were layered with the earthy funk of oak, smoke, and spices of the spirit they once housed. 'I got back to the brewery and said, "Okay, we are going to make the biggest Imperial Stout we can, put it in bourbon barrels, sit back, and see what happens."'
'I went all in and stuffed more malt into the tank than I had ever done before. This thing fermented so fast, in a couple of days. At that point, I wasn't sure if that was a good thing or not.'
Chicago's dynamic weather conditions—those bone-cold winters and beer-worthy summers—turned out to be the perfect barrel-ageing environment. Weather fluctuations caused the wood to expand and contract, pushing the beer into the pores of the wood and back out again. 'When the stout finally came out of the bourbon barrels, we knew this was a whole different type of beer,' Greg says.
'Nobody had ever made a beer like it.' He bottled and submitted the inaugural Goose Island Bourbon County Brand Stout in the category of Imperial Stout at the Great American Beer Festival. 'We got disqualified.'
'This beer that we'd just been messing around with for our thousandth batch was too big, too strong, and too bourbon-y and barrel-y for what the beer judges expected. But then everyone else at the GABF couldn't stop talking about it. The character, the complexity, the flavours and aromas—people weren't used to experiencing these kinds of things in a beer.'
IT CREATED A NEW DARK BEERS CATEGORY
Our beer sparked such flavour contention, it went on to fuel an entirely new type of beers: barrel-aged stouts. To this day, barrel-aged stouts are one of the most prestigious categories at GABF, with competition among craft breweries for a medal in this highly skilled category a badge of (brewing) honour. The drive for dark barrel-aged beers also spurred an annual world-class beer competition, the Festival of Wood and Barrel Aged Beer (FoBAB), which launched in Chicago 16 years ago. It's a big deal among the barrel-aged crowd, with aged beers, mead, and cider debuted at the festival, while others are laid to rest after a final public tasting.
'And here we were just making something for our thousandth batch that we thought we'd never make again', says Greg.
THE ANNUAL STOUT RELEASE IS MUCH ANTICIPATED
Over in the States, some folks like to shop the typical warehouse sales the day after Thanksgiving; others prefer to shop for beer. Black Friday is the one day each year when our annual Goose Island Bourbon County Brand Stout lineup is released. In the early days, it was just a day we picked to release the beer. But this is Chicago we're talking about, and the event soon took on a life of its own. The line starts early outside a designated local retail store (one year a devoted fan camped outside for two days; Goose staffers brought him a turkey dinner on Thanksgiving morning). You bring the camping gear and ice hockey team beanies; we'll bring coffee from our neighbours down the street and doughnuts for breakfast.
HOW WE BREW AND AGE OUR STOUT
Most beers are meant to be enjoyed fresh. They typically have a lighter malt body, lower ABV, and hop characteristics at the forefront of their taste profile (since oxygen causes their flavour to deteriorate). Barrel-aged beers are an exception.
Their ingredient profile is usually very different, with more than double the amount of malt (creating a higher sugar content), which in turn results in a higher ABV (8% to even 20% ABV). That high ABV is what helps the beer 'survive' for such a long period of time during the barrel-ageing process. These beers also have more hops to balance out all that sweetness, so the bitterness can reach double that of an IPA.
When the beer finishes fermenting, barrel magic comes into play. Freshly emptied whiskey or other spirit barrels are typically preferred, as those wet, unwashed staves are still soaked in whiskey. After the barrels are filled, they're stored over the next few months—or even years—in a barrel-ageing warehouse (space can be an issue, as it was for Greg Hall with that first batch of Goose Island Bourbon County Brand Stout, when he stashed it under an office desk).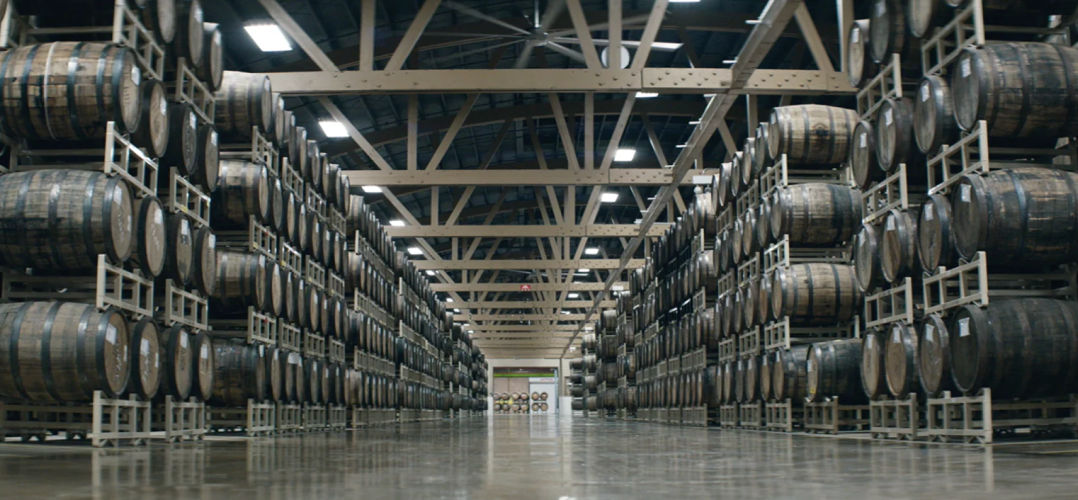 Over time, the porous wood causes the beer to evaporate and become more concentrated. The hops begin to break down, and their dominant flavour fades away. That big malt backbone also chemically changes as it comes to the fore. Mother Nature does her part as well. When the temperature outside rises, pressure makes the wood expand, which pushes the beer deep into the charred oak staves. As the cold weather creeps into the barrel warehouse, the wood contracts, literally squeezing beer out of its pores and back into the barrels, bringing with it all of that rich whiskey character: vanilla, coconut, caramel, oak, and so much more.
The longer the beer ages, the richer those characteristics. On the flip side, a beer aged too long loses the more subtle, layered flavours and aromas that make a truly great barrel-aged beer. This is where brewing team skills come into play.
FLAVOUR AHEAD OF ITS TIME
Today, the Beer Judge Certification Program (BJCP) defines a 'wood-aged beer' broadly. The beer can be virtually any style (porter, stout, ale) and can be aged in any type of barrel (whiskey, bourbon, port, sherry, Madeira, wine), or even wood chips can be used. Adjuncts like cinnamon, maple syrup, coffee, and other flavours may also be added to this beer style.
The flavour notes judges look for today sound just like Goose Island's first barrel-aged stout beer back in the 1990s: vanilla, caramel, butterscotch, coffee, chocolate, cocoa. And whilst Goose Island's first Bourbon County Barrel-Aged Stout was disqualified for being too 'experimental', it was the start of something beautiful. BJCP guidelines today state 'experimentation is encouraged' within the category.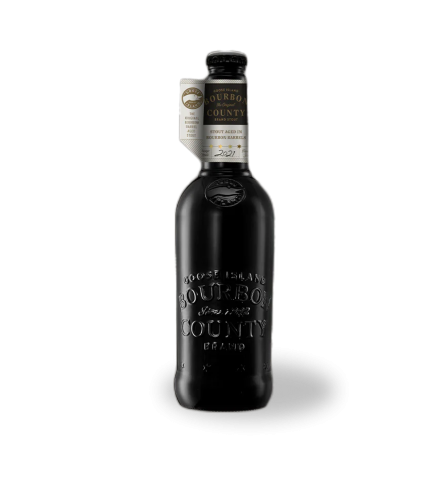 Bourbon county stout 2021
Discover more